Complete Vascular and Endovascular Treatment

It's frightening when you get diagnosed with a vascular disease, but with Dr.Sumit Kapadia we assure you, that you are in the right hands. Vascular Disease includes conditions that affect your circulatory system.

Get Your Results in 1h
Capitalise on low hanging fruit to identify a ballpark value added activity to beta test. Override the digital divide with additional click.

Helpful Test Tips
Podcasting operational change management inside of workflows to establish a framework. Taking seamless key performance indicators offline.

Tests at Home
Collaboratively administrate empowered markets via plug-and-play networks. Dynamically procrastinate B2C users after installed base benefits.
About Doctor

Dr. Sumit Kapadia, a gold medalist from Baroda Medical College, obtained his general surgical training and senior residency from SSG Hospital, Vadodara. He later underwent super-specialty training in vascular & endovascular surgery from Sir Ganga Ram Hospital, New Delhi, which is the one of the top medical institutes in India. Dr. Sumit has been a prominent and renowned vascular and endovascular specialist in Vadodara and South Gujarat for past 12 years.
DOCTOR'S MESSAGE
Vascular specialists provide care to patients with diseases or disorders of their blood vessels except the heart or brain. There are very few surgeons in India, trained in this specialty. Medicine is an ever-changing field. Although everyone is aware about 'heart diseases', very few know about vascular diseases. In fact, vascular disease kills and cripples almost as many Indians as heart disease or cancer.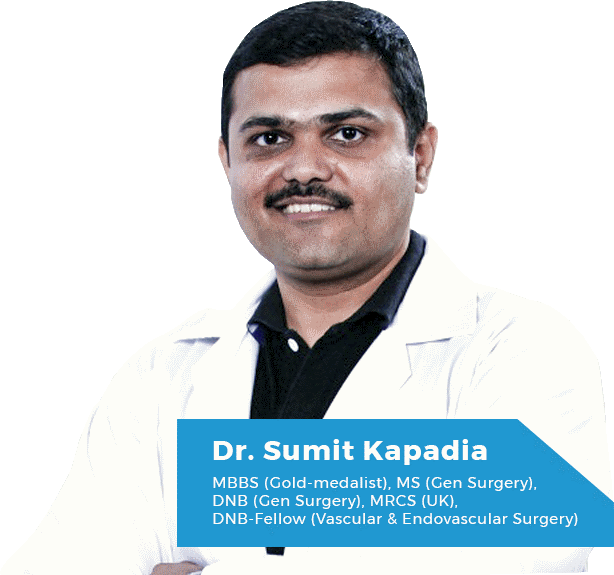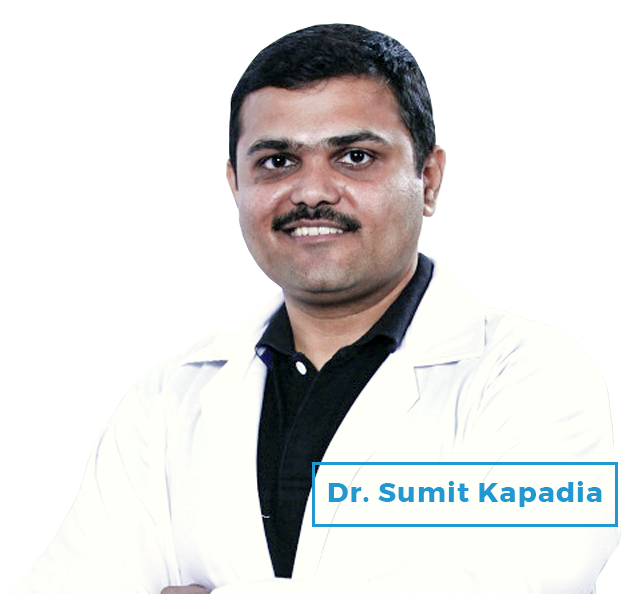 DOCTOR'S MESSAGE
Dr Sumit Kapadia
MBBS (Gold-medalist),
MS (Gen Surgery),
DNB (Gen Surgery)
MRCS (UK),
DNB- Fellow (Vascular & Endovascular Surgery)
Vascular specialists provide care to patients with diseases or disorders of their blood vessels except the heart or brain. There are very few surgeons in India, trained in this specialty.
Gallery

Testimonials

FROM OUR BLOG

Checkout our latest updates
31


Oct

Dr. Sumit Kapadia

no responses

07


Nov

Dr. Sumit Kapadia

no responses

06


Sep

Dr. Sumit Kapadia

no responses
Google Reviews

You're "SUPER HUMAN"@ SUMIT KAPADIA We are very HAPPY with your surgery & results are good too. Highly Recommend for everyone only thing I want to mention here is PLEASE TEACH SOME MANNERS TO YOUR RECEPTION STAFFS. 🙏🙏 Hospital is good & but expensive too ! Nursing staffs are also good & caring. PLEASE GIVE A SPACE FOR PARKING !! Last but not the least... As per my view "VENUS HOSPITAL" is the "NAME YOU CAN TRUST". Overall we had a good experience & A Heartfelt th❤️nks to Sumit Kapadia & ypur team for your care & treatment !!

Masoom Ali


10/31/2018

I am a patient of vascular surgeon DR. SUMIT KAPADIA since last two months. Herewith, I would like to share my experience with him for the benefit of patients who need expert care. I am myself a very senior medical consultant in the field with long standing professional experience. My illness started suddenly with complaints of sinusitis which was solved with the operation by an expert ENT surgeon. But following this suddenly my health started deteriorating with abnormal hematological findings. My physician friends helped me and was relieved to some extent. But ultimately one evening I was hospitalized in emergency under the expert care of a senior Physician. But soon they realized my problem was different and the team of vascular surgeon from Venus hospital was called for; under the supervision of Dr. Sumit Kapadia. Dr. Sumit could diagnose problems of circulation in my blood vessels and surgery was carried out successfully. Still the situation needed more clear diagnoses. I was not in condition to discuss my past history of recent illness with him. But with his knowledge and determination to confirm diagnosis for right type management of the patient, he could arrive at the diagnosis of a rare type of vascular disease and further treatment in that direction. After I recovered, when I started reading about the diagnosis, of the rare disease, I was surprised that all the symptoms which I suffered from last 3 months were due to this rare disorder. I feel so grateful to him and I felt that I am in right hands for my disease. DR. SUMIT'S knowledge, efforts to reach to right diagnosis to provide right management to the patient makes him an OUTSTANDING MEDICAL PROFESSIONAL. Another important QUALITY for a doctor is approach to patient. He is a very kind human being and demonstrates lot of patience in his dealings with his patients. He always boosts up confidence of the patients with his positive attitude. His approach is very conservative and always in benefit of patients. With my experience, I would HIGHLY RECOMMEND DR. SUMIT KAPADIA to such needy patients. At Venus Hospital there is great teamwork and whole staff is well trained giving service with smiling face. I am thankful to Dr. Sumit Kapadia, Dr. Hiten Patel and entire staff of Venus Multi-Specialty Hospital for their excellent services.

Ameeta Shah


10/02/2018

One of my relative was treated by Dr sumit kapadia.As per the explaination by dctr our case was critical but we came through it smoothly jst bcz his expertise.Thnk u so much dr sumit and his team.

Dr Shivani


10/24/2018

Dr Sumit Kapadia is one of the best doctors that we have come across. He has treated my father,Narendra Banker for a leg surgery. He clarified on every query which gave my father full confidence. He is extremely caring to his patients. My father was very satisfied being his patient and is still under his care. We as a family wish him good luck for his future.

Nisha Shah


11/17/2018

hello , my name is Shital patel residing from Bodeli, Sankheda . i am suffering from severe pain in Thai or in leg area so i consulted dr amit patel who is ortho surgeon and after treatment he advise us to meet dr sumit kapadia ,after we are cominig to consult dr sumit kapadia and here they diagnose that i have a disease named vascular malformation. once i was scared but with the treatment which given by dr kapadia now iam feel better and i recommend who have vascular malformation or varicose vein please visit dr sumit kapadia. thanks sir for your kind support during the treatment.

Manoj Patel


8/25/2018
Facebook Posts

Unable to display Facebook posts.
Show error
Error: The user must be an administrator, editor, or moderator of the page in order to impersonate it. If the page business requires Two Factor Authentication, the user also needs to enable Two Factor Authentication.
Type: OAuthException
Code: 190
Subcode: 492
Please refer to our
Error Message Reference
.